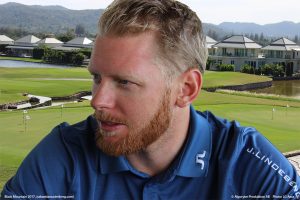 Interests:
Snowboarding, traveling, TV shows, sports & hanging out with family and friends
Favorite courses:
TPC Myrtle Beach / Oakmont CC
Fun Fact:
On my recruit trip to Coastal Carolina, one guy on the team called me "Seabass" (mostly known as a guy in the movie Dumb and Dumber…) and this name stuck all the way through college and also still today.
---
Dear friends,
My aspiration to become a professional golfer came at an early age, even though I played a lot of different sports growing up, I always had golf as my first priority. Until I was 3 years old I lived in Belgium. where my father and mother worked at the time. My family then moved to Perstorp, Sweden for a brief 4 years before finally moving to Partille, a suburb to Gothenburg, where I have lived until 2016 (when I moved to Gothenburg).
When I was 7 years old I became a member at Partille Golfclub and it´s where I started my golf career. When I was 16 I began High School at Katrinelundsgymnasiet, Gothenburg, specifically for golf. At this time I also started practicing hard during the winters which was new for me, usually spending my time with other sports during this period.
My first real breakthrough came in 2008, when I after a good spring season got to represent Sweden at European Boys Team Championship in Slovenia where we won gold. This gave me a good opportunity to go to a University in the USA and play college golf. After visiting Coastal Carolina University in Myrtle Beach I quickly decided that it was the right place for me. Both because of the coach, Allen Terrell, and also the awesome facilities the team had at TPC Myrtle Beach. I spent 4 and a half years there playing golf and graduating in 2013 with a degree in Exercise Sport Science. It was for me the best decision I ever made as I grew as both a person and a golfer.
Thanks to this I now have the chance to pursue my dream and play golf at the highest level.
Sebastian Söderberg